Whatever your technology needs or challenges, I can help you—from small business setup to home media centers and home offices. I have worked with everyone from George Lucas to teams of IT geeks at Fortune 500 companies to grandmothers and grandfathers just trying to keep track of their family on Facebook.
About Julie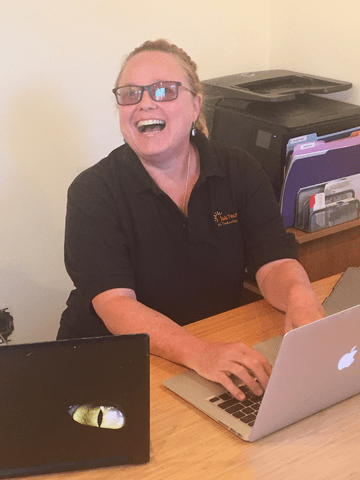 One of the things I do best is speaking to people in a language they can understand. Whether that's high-tech, low-tech or no-tech. I like people, I love technology, and I like being able to put people at ease when it comes to figuring out technological issues. It often helps me—and my clients and potential clients—if I understand first where you or your company are with technology: Do you love it? Does it scare you? Do you know it pretty well but just not have the time to deal with it? Once I know where you're coming from (vis-á-vis the technology you have), we can then nail down the issue or the problem, and from there, work with you to be and feel successful with your endeavor. That's the goal.
I am excellent at troubleshooting and implementation and I have experience in just about everything in the world of IT. I've worked as an IT engineer, an IT specialist, a desktop technician and documentarian, a network specialist and system integrator, and I've provided technical support and training at almost every workplace of which I've been a part. I've also worked with Audio/Video systems and "smart house" technologies. In fact, I'm especially good at showing people how to use their technology. I have trained people on how to use technology for years.
If there's one keyword to who I am and what I do, it's "support."
Especially when it comes to home technologies. I like the one-on-one aspect of working with people on how to customize their technology at home. That is a big part of what I do, and what I enjoy doing. And home technologies have become as complex in many ways as what used to be solely business technologies. That's where my experience as a network engineer and a low-voltage technician is a huge advantage. I've set up numerous networks for homes and businesses onsite, and I've helped many, many people customize their tech—to meet their needs and their budgets.
Although I am a dealer for various products, that has more to do with accessibility support for products. I don't have any agenda with that except for finding the best solution for the customer.
Services
I consider myself to be a technology advocate—someone who can help interpret, design and implement correct and customized technology for people's homes and small businesses.
Some examples of this: streaming media (streaming devices and streaming programs, such as Netflix, Amazon's Suite, Apple TV, Roku, et al); integration of music and sound platforms (Sonos, Pandora, Spotify), televisions and computers, laptops, desktops, mobile devices, Audio/Video, security systems, smart-home devices (Amazon Echo, Ring, thermostats—you name it, I can install it).
All of these things require a comprehensive understanding of the many aspects that make them work together—and a good knowledge of what works and what doesn't.
Some other areas of expertise and services:
Security (personal and business)
Disaster recovery
Data recovery
Cloud services
Hardware (of many kinds)
Smartphones & Tablets
Mac and PC
Servers and Storage devices
Servicing Santa Fe and surrounding areas
Remote support for customers
Social networking and Marketing
Helping people empower themselves technically
Testimonials
"I've had the pleasure of working with Julie Soucek for nearly two years in her capacity as a network and PC specialist and project manager. Her experience and knowledge in the modern world of information technology is positively mind boggling. Not only is Ms. Soucek's capacity for complicated problem solving beyond impressive, but her generous demeanor makes her a pleasure to work with. I wish Julie every success and I'm delighted to recommend her services."

-Mitchell Markow
"I have had the pleasure of working with Julie Soucek for all my IT needs for several years. She is an expert in WiFi architecture, security, hardware and is facile in both the PC and Apple worlds. I worked with some of the most talented technology professionals in my career and Julie ranks right at the top of this select group. If you need a talented, responsive, customer-driven professional for your IT requirements, I could not recommend a better person than Julie for the job."

-Richard Boyle
"I have a small international Healing practice in Santa Fe, New Mexico and I am the Honorary Consul of Sri Lanka. It was difficult to grow my practice and to be in sync with rapid changes in the high tech world. Julie Soucek (I affectionally call her Julie Skywalker) has helped me make the tech changes that was sorely needed to progress my practice. She keeps me current and helps me understand how to use my "skywalker" lab of multi-media devices and social networking platforms. Thank you, Julie !"

-Althea Gray
"During the 2 plus years, Julie has been supporting Esperanza Shelter with IT consultation, support and services, she has made a significant impact to our organization. Her expertise and support has included upgrading the quality of our IT infrastructure, from network management, workstation deployment, telephony support, software licensing, systems analysis and security. In addition, she has provided desktop support to all users whether it is to provide training, troubleshoot user access issues or respond to network issues. Her efforts have contributed to stabilizing and improving the IT environment and resources our staff rely on to document and deliver services to the clients we serve. "

-Jorge Fonseca, Esperanza Shelter for Battered Families